June 1996
Last Edit August 3, 1998

---
I am a Fabio fan.
This was not a sudden occurrence, I have been aware of the young man for some time.
I have watched the evolution from curiosity to TV personality with some interest, after all, I am a marketing person now.
That's as good an excuse as I need.
At my age, I am also learning to just do it. Nike has caught my attention as well, you see.
Meeting Fabio was a trip. He is not only nice to look at but nice to listen to. And patient (he has to be, he gets so thoroughly mobbed).
And once I had met him, well, I just had to have the calendar, right?
Now, I am a single Mom. I have two growing boys. One is over six feet tall (he's my baby), weighs in at 190 and is only seventeen. The other is the Moose. He is 12 and 115 pounds and will be as tall as or taller than Fabio.
They hate him.
My boys have never seen me date. I gave up on that part of my life on the arrival of child number two. American men don't take to women over forty with commitments. And with these two, I should have been committed.
The boys control my wallet. They have progressed from toy cars to video games to full computer stations and are still thinking of ways for me to spend my money.
They control my time. I get calls at work. I make emergency runs with bathing suits. Homework. Library books. I haul them to camp. To the paint ball store. I take them on hikes. I do laundry at ten P.M. and shopping at midnight.
They admire girls. And women. In bikinis.
The older one pastes them up on his bedroom walls. And ceiling. They catcall out the car window. When I am driving.
I had enough.
I decided I was old enough to have a Fabio calendar.
I was also very careful.
I hung it over my bed, in my pink and white bedroom, where it wouldn't bother the boys. I added the "Fabio in the pink sheets" photo the fan club sent. Attractive. Harmless.
Wrong!
First the 12 year old decided to join me on my bed, which is a big one. He lay there for several long minutes and I could tell he was trying to communicate. Sometimes they even use words.
After a while he blurted out, " Mom. What's pictures of that guy doing on your wall?" He was not pleased.
"I like him," say I.
He snorts.
Later, I wander back into my room, a place I try to visit at intervals during the day, for sanity checks, and I find poor Fabio, the calendar closed and hung unceremoniously upside down.
I screamed for three hours. I have learned to have great temper tantrums over the years.
My kids know when they have gone too far.
They picked up their rooms.
They did the dishes.
They vacuumed.
They pacified their mother.
They now were leaving the calendar alone.
I got brave.
I bought the new one. 1994. Complete with the scowl and the towel pose for November. I showed it to them.
They turned rabid.
Perhaps because I actually bought two of them.
I hung one over the bed. I said it was big. It's a California king. I have the 1993 calendar on one side of the bed and the 1994 on the other and told my kids I could now roll back and forth between them, depending on my mood.
Sometimes they do things together. They snorted in unison.
I hung the other one, open to November, in my bathroom. November features Fabio, soaking wet, with a small towel. I have a hard time waking up in the morning. That photo would jump start a rhino.
Now, I do keep the electric toothbrush in my bathroom because I don't like them using it as a sword. The waterpik is there too. And, sometimes they have been known to brush their teeth.
Not anymore. They refused to enter the bathroom with November's pose on the wall.
They stormed out of the room.
They slammed doors.
They decided I needed therapy.
The doctor did too. He gave me medicine for the hot flashes.
I moved the offending calendar into my home office, away from prying eyes. I can look up for inspiration when I am writing. I mentioned this to the boys.
They avoided my office.
Alpha males both, they began to walk around the house without their shirts.
They flexed their pecs.
They showed their biceps.
The older one wore his jeans hung low. He used the weight machine.
It took me a few days to figure this out.
Fabio had now been perceived as a serious threat.
They were declaring their territory. They were strutting before their possession, their female. They had decided that I was in danger of being distracted from my real reason for existence. Cooking, cleaning, and buying.
They made remarks about the calendar. They charged exorbitant rates to tape his appearances on TV. They rolled their eyes. They refused to carry books for me if one had him on the cover.
I waited. I got even.
During one of their assaults, "Oh Mom. What do you see in him?" I informed the Moose that I loved November (what a body!) and described what I wanted to do to help him dry off. (Sorry, that's censored.) That beaded water does draw the eye after all.
My young one stormed off.
My older one slammed his door.
They are wearing their shirts again.
The older one pulled his pants back up.
They are trying new tactics.
They still think I need therapy.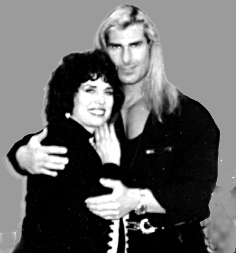 Los Angeles, February, 1995
---
www.Donnamaie.com my home page
Caliente Morgan (my pen name)
WhitePubs.com (Technical Textbook/Reference book publisher
Fabio Inc. (Fabio Inc. Business pages)
Fabio International Fan Club (also see the Yahoo group; Facebook Group Page)
---
Copyright © 1996-2014 Donnamaie E.White, WhitePubs Enterprises, Inc.
Material on this page may not be reproduced without written permission of the author. donnamaie@ - no spam - sbcglobal.net
Material on this website may not be reproduced without written permission of the author(s).
Certain images are the property of their respective publications or photographers.
These items may not be copied or reproduced without the express written consent of their owner(s).
WhitePubs® is a registered Trademark of WhitePubs Enterprises, Inc.
---